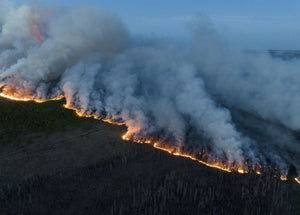 Wildfire Preparedness: Everything You Need to Know
Wildfires burn in British Columbia in this aerial photo released by the BC Wildfire Service on June 9. Xinhua/Shutterstock
As our world continues to grapple with the climate crisis, the incidence of extreme weather events and natural disasters is unfortunately on the rise. Wildfires, in particular, are causing increasing concern, especially in areas like California, which has been hit by numerous large and destructive fires over the past decade. Therefore, understanding wildfire preparedness is critical. In light of this increasing threat, it's necessary to provide actionable steps to stay safe, heed evacuation notices, understand where to find information, and more.

The Growing Threat of Wildfires

Before we delve into wildfire preparedness, it's important to understand why this topic is so vital. In recent years, wildfires have increased in frequency and intensity. The National Interagency Fire Center reported a significant upsurge in the number of wildfires over the past decade. Experts link this increase to several factors, including people living in high risk fire areas, overgrowth, and climate change, thus making environments more susceptible to fire.

This rise in wildfires presents a significant risk to human life, property, and the environment. Each year, wildfires cause fatalities and injure countless people. They destroy homes and other structures, damage critical infrastructure, and harm wildlife and their habitats. They also emit vast quantities of carbon dioxide and other greenhouse gases, exacerbating climate change.

The Role of Insurance Companies

The escalating wildfire threat has led to changes in the insurance industry, with some insurers reassessing the risks associated with covering properties in wildfire-prone areas. Just in the last few weeks, Allstate and State Farm, two of the largest insurance companies, have stopped providing new home insurance policies in California, citing high wildfire risk.

This change has created uncertainty and worry for homeowners who may now struggle to find adequate coverage for their homes. If you're in an area prone to wildfires, it's crucial to review your existing policy, understand what is and isn't covered, and consider seeking alternative insurance options if necessary.

Understanding and Heeding Evacuation Notices

In the face of a wildfire, time is of the essence. Evacuation orders are issued by authorities to protect lives and must always be taken seriously. They come in several forms, each with different urgency levels:

1. Evacuation Order: This means you are in immediate danger. Load your vehicle and leave the area.

2. Evacuation Warning: This means there's a potential threat to life and property. Those who require additional time to evacuate, and those with pets and livestock, should leave now.

3. Shelter in Place: This means your best option is to stay where you are.

Stay informed by registering for local alerts from the FEMA App, and your local preparedness office. Websites such as InciWeb (the Incident Information System) and local news channels also provide timely updates.

Wildfire Preparedness

Preparation is key to surviving a wildfire. Here are some steps to ensure you're ready:

1. Create a Defensible Space: Clearing vegetation around your home reduces the risk of the fire reaching your property. Aim for at least 30 feet of clear space, but follow local guidelines.

2. Hardening Your Home: Use fire-resistant building materials and seal any openings where embers might enter.

3. Prepare a Wildfire Action Plan: This should include escape routes, communication plans, and an emergency supply kit. Your kit should include essentials like water, food, medications, important documents, and supplies for pets. Make sure to document your belongings, take lots of pictures of house and its contents for insurance.

What to Do if You're Trapped in a Wildfire

Despite best efforts, there may be situations where you find yourself trapped by a wildfire. If you're in your home, stay inside - it can provide protection against heat and smoke. Fill sinks and tubs with water, close all windows and doors, and stay away from outside walls and windows. If you're in a vehicle, park in an area clear of vegetation, close all windows and vents, and cover yourself with a blanket or coat. If you're outside, find a body of water or a cleared area with little to no vegetation, lie low to the ground, and cover your body with soil if possible.

Conclusion

The increase in wildfires presents a significant threat, and it's more important than ever to be prepared. Whether it's understanding and heeding evacuation notices, staying informed, creating defensible spaces around your home, or knowing what to do if trapped in a wildfire, each step can significantly increase your safety. And while we navigate these new insurance dynamics, remember to regularly review your policy and understand your coverage. As the saying goes, "It wasn't raining when Noah built the ark." The time for wildfire preparedness is now.
---